So it's been a while since my last post, but I have a really good excuse! My husband and I went to the Big island of Hawaii to celebrate our 10th anniversary, and pictures don't do the place justice. I miss it already!
I also caught a cold and had a six hour jet lag, ugh. But no matter! I will suffer through it because I'm so excited to bring you my next post, the five minute frame makeover. I'm not exaggerating either. It really only takes five minutes.
I was perusing Joanne's the other day and ran across some stuff called Inka Gold. I looked at the container, curiosity welling inside of me. What is this metal wax paint made in Germany? I had to know.
Sounded fancy so I went home and got on the ole Youtube to discover it's secrets. Turns out that Inka Gold is some cool stuff! It is water based and creates an opaque metallic finish. I doesn't stick to non- porous items very well, but you can still make it work if you put it on in thin layers and let the paint dry between applications. It has tons of creative potential, but we'll just look at one today.
I had some sad dark Dollar Tree picture frames sitting around feeling plain and dejected. It was time for a makeover!
Inka Gold metallic paint to the rescue. You've seen the gilded frames, where the gold or whatever metallic finish is rubbed onto the raised areas? Well, it can be done in less than five minutes with this stuff and your fingers. That's it.
The texture of the paint is sort a of creamy wax, kinda like peanut butter, and you can just glide your finger across the paint then lightly rub across the frame to highlight the details.
Like this…
Easy huh? It dries super fast and can be buffed to a shine after a few hours and you have something that looks way classier and colorful than some old crappy black frame.  And it doesn't have to be just one color, have fun! I probably ended up putting like five or six colors on mine, but who's counting…
The paints are opaque and will cover up your previous work, but hey, no mistakes, right?
Here's a couple more I made to go with my makeover frame. Aren't they cute? I just cut pages out of various scrapbooks for the pictures.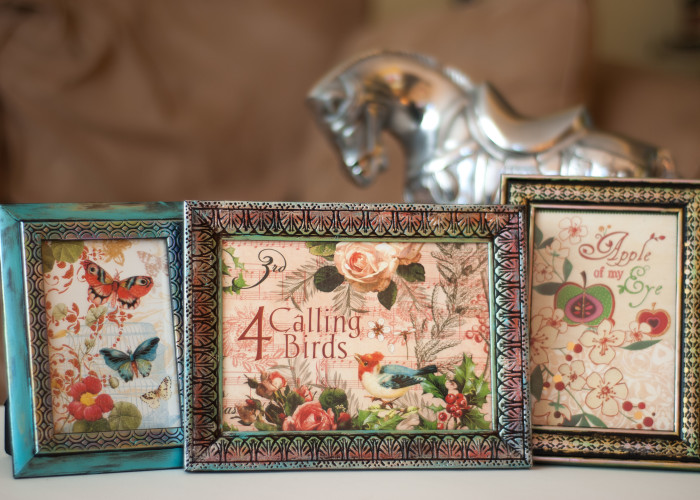 Are you thinking of all the possibilities? You could do a whole theme, or make them for gifts, or better yet, have a frame decorating party! You could have some scrapbook paper and the Inka Gold paints and they could go to town. Dang, I'm so psyched, I need to have a party now.
Have y'all ever used Inka Gold paints? What methods did you use? What did you use them on? I'd love to hear about it!
Angie